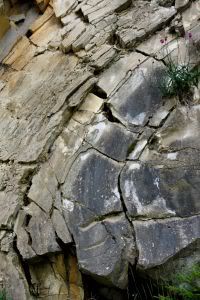 Just as there are life lessons for us in Nehemiah 1, there are helpful principles for godly living in Nehemiah 2:1-20.

Nehemiah 2:1-8
After prayer Nehemiah seeks permission from King Artaxerxes to return to Jerusalem.
Nehemiah was so sad about the state of Jerusalem, the king noticed and asked the reason for his sadness. Nehemiah sought approval from the king to go and do something about the situation. Nehemiah knew he needed God's help to make the king favorable to his plan. When the king knew how long Nehemiah would be gone he agreed. Then Nehemiah asked for letters requesting materials to help build and again the king granted his request,because God had gone before and prepared his heart.
What problem or problems do you need to bring to God in prayer, for His solution, trusting God will have gone before to open the way?
Nehemiah 2:9-16
After his arrival Nehemiah takes stock of the work needed to restore the walls.
Firsts he goes to the governors with the king's letters. But not everyone was pleased. Sanballat the Horonite and Tobiah the Ammonite were displeased at the situation of someone coming to see to the welfare of the Israelites. Undeterred, Nehemiah rose in the night, without telling anyone the plans God had out in his mind to do. Alone he went and inspected the walls, deciding what needed to be done.
Who do you approach when you have a calling or vision from God to do some work for him?
Nehemiah 2:17-20
After inspection of the situation and ridicule from others, Nehemiah enlists help from Jews and from God.
He clearly puts the problem to the people and suggests they work together to repair this problem. He also testified how God had already been at work in his life, bringing him this far. When others who were not Israelites mocked him, Nehemiah trusted in God to grant him and the people success.
What venture for God do you need to enlist help with? Will you trust God to provide all you need to do what He is calling you to?
Bible verses from the New American Standard Version
Please visit these related blogs