in a nutshell:
Product:   All About Reading, Level 2
Published by:  All About Learning Press
Cost:  $99.95 per set
Teacher Prep:  Minimal
Homeschool Method:  Any
Purpose:  To teach reading using an multi-sensory approach.  Excellent tool for learning to read and struggling readers.
Teaches:  Decoding Phonics, Decoding Structural Analysis, Vocabulary, Fluency, Comprehension
Extras:  Visit All About Learning Press for PDF downloads for placement tests and curriculum samples from all All About Reading Levels.
Included in the Level 2 Set:
Level 2 Teacher's Manual
Level 2 Student Packet (includes Leap into Reading activity book)
What am I?, decodable reader
Queen Bee, decodable reader
Reading the Full Review HERE.
Read my review of Pre-Level HERE.
Read my review of Level 1 HERE.
What do I think?
I have used All About Reading since ZigZag Zebra.  It was a big day why he came into our lives.  The girls love him.  It set the stage for an engaging and effective way to learn reading.  The method used is sound and teaches mastery of the subject to emerging readers or struggling readers.  All About Reading, Level 2, continues the pattern.  If your child has not used the program before, she can start at her level and start off strong.  Starting at any point will bring a sigh of relief as you both enjoy this refreshing method that comes naturally.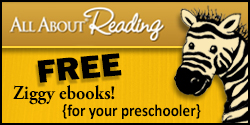 I have said this before:
"All About Reading, Level 1 is a homeschooler's Holy Grail when it comes to teaching reading."
"If you thought teaching reading was anything but a privilege then you could be using the wrong program."
I stand by those statements and further I want to apply them again.  It is not easy to teach a child with dyslexia to read.  I cannot promise you that the program will make it easy.  I cannot promise you that you will not need more supplementation or remediation.  What I can say is All About Learning Press provides top notch curriculum that will forge the road to reading.  If your child is struggling, this is one of the best places to begin.  If your child is not struggling, this is still one of the best places to begin.  Reading is not one dimensional and black and white.  Reading is alive and filled with color and excitement.  It should also be taught that way.  Do not deprive yourself or your child from a learning experience that understands that.