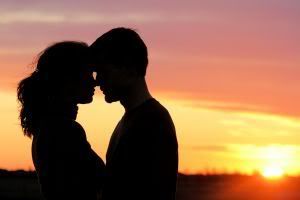 Want to know how to ease stress in your life and that of your spouse? Scientists have come up with the answer – to kiss stress goodbye, literally. Displays of affection ease stress levels. That's the conclusion that scientists have come to, after conducting a week long study with a number of mostly married couples.
The act of kissing, 'unleashes chemicals that ease stress hormones in both sexes.' Scientists dicovered that the couples that engaged in more physical contact, ranging from holding hands to sexual intercourse, had lower levels of cortisol, in their saliva. Cortisol is often referred to as the stress hormone.
So,if we're stressed, showing more physical affection could help get us back on an even keel. And even if it doesn't can you think of a better excuse to get close to your spouse and cuddle up?
One thing I've noticed with young couples today,is that they often don't appear as openly affectionate and go in for holding hands as some earlier generations did. I often seeing elderly or middle aged couples walking along holding hands. I don't see it as often with younger couples? Have our younger couples lost the romance?
Over '90 per cent of human societies practice kissing.' Songs have been written up the kiss. Artists have immortalized it in paint and sculpture. Movies have drawn attention it.
With the latest study you get the feeling that science has caught up with something songwriters, knew years ago – the importance of showing love and affection. Do you remember The Shoop Shoop Song? It was brought out by Betty Everett and the made a hit again later by Cher. The song told us back then how to know if he loved you. It's in his kiss. And apparently if you want to relieve stress in your life, it's also in the kiss.
What better time and what better excuse than today to try and decrease stress in your life in such a pleasurable way with a kiss.
Please visit these related blogs
Stress – Always Look for the Bigger Picture
The Bonding Hormone and Monogamy